Public Accounts Committee
Display:
Department for Work and Pensions: The Introduction of the Work Programme
HC 1814, Eighty-fifth Report of Session 2010-12 - Report, Together with Formal Minutes, Oral and Written Evidence
Author:

House of Commons - Committee of Public Accounts

Publisher:

TSO (The Stationery Office)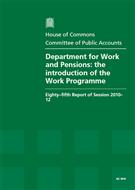 'Department for Work and Pensions: The Introduction of the Work Programme (HC 1814)' examines the progress of the 'The Work Programme', designed to help long-term unemployed people into sustainable employment, started in June 2011, replacing virtually all welfare to work programmes run by the Department for Work and Pensions.
Over the next five years, the Programme is expected to help up to 3.3 million people at a cost of £3-5 billion; with 18 prime contractors, each with sub-contractors, in place to deliver the Programme across England, Scotland and Wales.
The Department has done well to introduce the Work Programme in 12 months. Prime contractors receive the majority of their payments once a participant has stayed in a job for a set period of time, with the length of time varying according to the claimant group.
Although some financial risks have been transferred to the providers, the test of whether the Programme is achieving value for money will be whether more people are in work as a result of the Programme than would have been if it had not existed, and that the wider social benefits which underpin the cost benefit analysis are delivered in practice.
The Department should seek assurance on a range of issues:
that sub contractors are treated fairly, not misled into accepting inappropriate contracts, and receive the number of cases and funding they were promised;

that harder to help claimants are not parked and ignored; and

ensuring proper value for money.
The Department relies on contractors to set minimum standards of service but has no measurable indicators against which the quality of service can be judged.

Find similar publications here: