Parliamentary Committees
Display:
Annual Accountability Hearing with the Nursing and Midwifery Council
HC 1428, Seventh Report of Session 2010-12 - Report, Together with Formal Minutes, Oral and Written Evidence
Author:

House of Commons - Health Committee

Publisher:

TSO (The Stationery Office)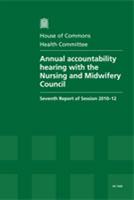 'Annual Accountability Hearing with the General Medical Council (HC 1428)' reports on the annual accountability hearings with the Nursing and Midwifery Council (NMC).
The Health Committee call for nurses to develop a wider responsibility for the overall quality of care delivered to patients as they have an obligation as professionals to report to their professional body any concerns they have about the quality of care being delivered by their colleagues.
The NMC must give a strong lead in this area and ensure that failure to act on this responsibility is regarded as a serious breach of professional obligation.
The Committee stresses that the NMC need to have effective revalidation processes in place so that they can periodically check on how nurses and midwives are performing.
The Committee recognises that the NMC is making steady progress towards being an effective regulator but cautions that there remains substantial ground to cover before it can be considered fully effective:
Work around pro-active regulation (risk-based visits) must be expanded.

Guidance about the care of older people must be reinforced by an action plan to deliver improved outcomes in this group.
Government and the NMC must speed up efforts to resolve the serious problems posed by nurses and midwives who qualify elsewhere in Europe, and earn the right to work in the UK without having their language or medical skills tested.
The UK and European law that underpins the workings of the NMC needs a complete overhaul.

Find similar publications here: