Parliamentary Committees
Display:
The Government's Review of the Principles Applying to the Treatment of Independent Scientific Advice Provided to Government
HC 158-I, Third Report of Session 2009-10 – Volume I: Report, Together with Formal Minutes
Author:

House of Commons – Science and Technology Committee

Publisher:

TSO (The Stationery Office)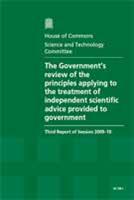 The Government decided to consider and issue, by the end of December 2009, a set of principles applying to the treatment of independent scientific advice provided to Government. This followed the Home Secretary's dismissal of Professor David Nutt as chairman of the Advisory Council on the Misuse of Drugs, and the concerns raised by senior scientists about treatment of scientific advice and advisers.
The Committee endorses and recommends some changes to the statement of principles issued in November 2009 by Lord Rees, President of the Royal Society, and others concerning:
Academic freedom

Independence of operation

Proper consideration of advice.
The Committee welcomes the commitment of Lord Drayson, the Minister for Science and Innovation, to resolve the concerns. Any principles that emerge from the review must become part of the Code of practice for scientific advisory committees and the Guidelines on scientific analysis in policy making.

Find similar publications here: