Parliamentary Committees
Display:
Budget 2012: thirtieth report of session 2010-12: Vol. 2 Oral and written evidence
House of Commons papers 1910-II 2010-12
Corporate Author:

Great Britain Parliament House of Commons Treasury Committee

Author:

Andrew Tyrie (chairman)

Publisher:

TSO (The Stationery Office)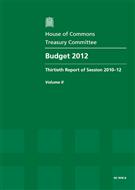 The Budget 2012 published as HC 1853, session 2010-12 (ISBN 9780102976045). For Volume 1, see (ISBN 9780215043863).
Find similar publications here: