Public Bodies & Nationalised Industries
Display:
A Breach of Confidence: a Report by the Parliamentary Ombudsman on an Investigation of a Complaint about HM Revenue & Customs, the Child Support Agency and the Department for Work and Pensions
HC 709, Fourth Report of Session 2010-11
Author:

Parliamentary and Health Service Ombudsman

Publisher:

TSO (The Stationery Office)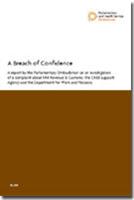 'A Breach of Confidence (HC 709)' deals with a complaint concerning personal address details which were incorrectly changed by an unidentified government agency and then duplicated across other government agencies with whom the complainer was involved.
Furthermore the error was not corrected once advised.
None of the bodies in question had been able to explain satisfactorily what had gone wrong and none had, therefore, resolved the complaint.
The legislation concerned is the Data Protection Act 1998 which regulates how personal information should be processed, including how data is obtained, held, used and disclosed.
The Parliamentary Ombudsman investigated and upheld the complaint. It was concluded that the individual and collective failings amounted to both maladministration and a failure of public service.
Recommendations were made and agreed in full.

Find similar publications here: