Official
Display:
The Work of the UK Border Agency (December 2011-March 2012)
HC 71, Fifth Report of Session 2012-13 - Volume I: Report, Together with Formal Minutes, Oral and Written Evidence
Author:

House of Commons - Home Affairs Committee

Publisher:

TSO (The Stationery Office)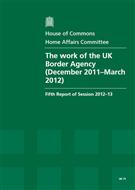 For the first time the Committee has collated the backlog of outstanding cases in the various areas where the UK Border Agency deals with casework. The Work of the UK Border Agency (December 2011-March 2012) (HC 71)' criticises the Agency for failing to conclude the total backlog of 276,460 cases.
The Committee makes a number of key recommendations:
a team should be established to examine why the 3,900 foreign national offenders living in the community (as of 04 April) have not been deported;

deportation proceedings for foreign national prisoners must begin at the time of sentencing;

a list of those countries refusing to accept the return of their own criminals who have committed offences in the UK must be published;

the Agency should expand its checks to include a wider range of databases in order to assist with the tracing of those in the controlled archive;

students should be removed from the net migration target;

face to face interviews for all foreign students must be compulsory;

the Agency must be represented at 100%, not 84%, of all tribunal hearings;

all inspection visits on 'Tier 4' must be unannounced; and

the Agency must inform the informants as to possible illegal immigrants of the outcome of their tip-off and provide a breakdown of the outcomes of its enforcement visits.
The Committee reiterates that Senior Agency staff should not receive bonuses until the Agency's performance improves.

Find similar publications here: