TRACKER
What is Tracker?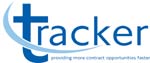 Tracker is the premier public sector contract information alert service that delivers straight to your desktop (via email) contract opportunities relevant to your business, giving you the capability to search for new business opportunities online. This is made possible through completing an online profile which, through keywords and product codes, identifies
precisely those contracts relevant to you. Tracker then delivers this potential
new business information every working day, so that you are the first to respond.

Why Choose Tracker?
Tracker is the most comprehensive contract information service of its kind. It searches through contract notices from central and local government bodies, health, defence and education authorities - worldwide!
Tracker publishes hundreds of high and low value contract opportunities before they appear anywhere else - even in the Official Journal of the European Union (OJEU).
Tracker allows you to create a unique profile that describes the products or services which your company offers, using keywords and codes. You receive only those contract notices that match your requirements. You can amend your profile at any time, at no additional cost.
Tracker identifies and selects only those contracts relevant to your organisation's unique profile and emails them direct to your desktop every working day.
Tracker gives you online access to all the contract announcement information available from BiP Solutions, allowing you to make additional searches 24 hours a day.
Tracker has a CPV Code Group Selection, which enables you to select all CPV product codes that identify your services, to ensure you receive notification of all relevant opportunities.
Free registration to the Select Online Supplier Information Database making your company details available to hundreds of public sector buyers looking for potential new suppliers. Access available through www.delta-ets.com
Tracker Market Monitor. Based on your unique profile, Tracker Market Monitor delivers vital market intelligence specific to your organisation's market, products or services, straight to your desktop via email every working day. This service is free for the first year of your subscription.
Tracker Translator. If you are involved with the tendering process internationally this option allows you to translate foreign contracts from their native language into English to see if the contract is relevant to your company. This facility allows two-way translation between English and French, German, Spanish, Portuguese, Italian, Dutch or Russian and is free for the first year of your subscription.
An annual subscription to Tracker normally costs £1,480 plus VAT. However, we are currently offering new subscribers a first-year subscription at only £980 plus VAT - a saving of £500
Sub. No.: 7901572
Price:

£1,180.00

(

£1,416.00

inc. VAT)
Sub. No.: 7901570
Price:

£1,680.00

(

£2,016.00

inc. VAT)
To arrange your FREE one-month trial or to subscribe now call 0845 270 7093 or email sales@tso.tendermatch.co.uk