Continual Service Improvement Book
2nd impression
Author:

Office of Government Commerce (OGC)

Publisher:

LAG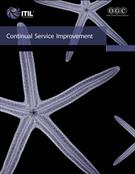 ITIL 2011 Editions have published! To find out more click here
ITIL Version 3's (V3) service lifecycle-based practice incorporates the best of V1 and V2 and tests current best practice for ITSM. For further information visit ITIL Refresh Register. Alongside the delivery of consistent, repeatable process activities as part of service quality, ITIL has always emphasised the importance of continual improvements. Focusing on the process elements involved in identifying and introducing service management improvements, this publication also deals with issues surrounding service retirement.
Each of the five core titles shares a consistent structure; the various practice elements are easily navigated and extensively cross-referenced. Concepts and guidance in this publication include:
Business and technology drivers for improvement

Justification

Business, financial and organisational improvements

Methods, practices and tools

Measurement and control

Companion best practices
Related resources:
> Continual Service Improvement Contents and Introduction - PDF (170KB)
> Continual Service Improvement 1st Impression Amendments - PDF (96Kb)
> Continual Service Improvement Publication Review
> Core Study Material for ITIL V3 Qualifications Diagram (PDF - 88Kb)
> ITIL Version 3 Lifecycle Process Model
> 'Everything you wanted to know about ITIL in less than one thousand words' White Paper by Jane Clark, Management Consultant from Connect Sphere Limited (PDF - 556Kb)
> 'An Introductory Overview of ITIL V3' Pocketbook. (PDF - 647Kb)

Already own a copy?
We are interested in your opinion. Please
review this publication
. (Opens in a new window.)
Find similar publications here: