Business Systems Development with SSADM CD-ROM
Author:

Office of Government Commerce (OGC)

Publisher:

TSO (The Stationery Office)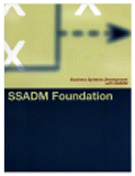 Business Systems Development (BSD) from OGC is a powerful analysis and design technique which provides IT professionals with a tool for investigating, modelling and specifying Information Systems. This new edition of BSD provides the content of SSADM 4+ but is now restructured into separate BSD components, plus the SSADM Foundation for those who wish to make use of the full integrated method.
BSD is now available on CD-ROM which enables you not only to dip into the text of the book through the standard view, but also get straight to the topic you need by using the advanced search capabilities. The CD-ROM also features the SSADM Systems Development Template, which divides the development process into a number of distinct areas of concern. Through the CD-ROM these areas can be accessed by clicking on the hyperlinks within this view.
A demo version of BSD on CD-ROM has been created so you can see for yourself the benefits and contents of the new edition of BSD and also trial the functionality of the CD-ROM. You can try all of the different views and see how the data is cross-referenced, see examples of the hyperlinks and also the glossary pop-ups. This demo contains three full chapters – chapters 1 and 2 of SSADM and chapter 1 of the components. The System Development Template has also been included.
Information on single/networked electronic licences
Information on Business Systems Development and details of training courses leading to professional qualifications

Find similar publications here: