Non Profit Organisations
Display:
Handbook of Practical Program Evaluation
Essential Texts for Nonprofit and Public Leadership and Management
Author:

Wholey, Joseph S. Hatry, Harry P.

Publisher:

Jossey Bass Wiley - John Wiley and Sons Ltd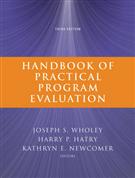 The book is designed to enable students of public policy, policymakers and mangers to obtain useful information and conduct successful systematic evaluations, even under tight resource constraints. This text presents a wide variety of approaches to evaluation through brief, authoritative articles by top academics and practitioners. Thoroughly revised and updated this third edition is filled with the most current information, up-to-date examples, and puts increased emphasis on practical applicability. The third edition also features a new and up-dated instructor's manual.
Find similar publications here: