Mental Health
Adult Social Care
HC 941
Author:

The Law Commission

Publisher:

TSO (The Stationery Office)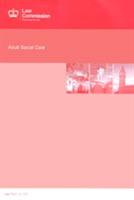 'Adult Social Care (HC 941)' recommends the most far-reaching reforms of adult social care law seen for over 60 years.
Under the proposals, older people, disabled people, those with mental health problems and carers will, for the first time, be clear about their legal rights to care and support services. Local councils across England and Wales will also have clear and concise rules to govern when they must provide services.
Since the 'National Assistance Act 1948' adult social care law has been the subject of countless piecemeal reforms including new Acts of Parliament and a constant stream of regulations, circulars, directions, approvals and guidance.
The proliferation of law has led to inefficiency in the system. Complex law also has the effect of stifling innovation, and making it difficult to promote flexibility and new policy approaches in practice.
The report is divided into 12 Parts:
Part 2 defines adult social care and Part 3 the structure of reform adopted.
Parts 4 through to 8 set out core recommendations:
Part 4 considers the role of statutory principles in providing an overall framework for decision making.

Part 5 covers the role of community care assessments in determining a person's needs.

Part 6 considers eligibility for services.

Part 7 explores the equivalent assessment and eligibility processes for carers.

Part 8 considers the provision of services.

Part 9 considers local authority adult protection functions.
Finally, Parts 10 to 12 consider other issues:
ordinary residence and portability;

areas where adult social care overlaps with other areas of law; and

other outstanding issues.

Find similar publications here: