Medical Research
Display:
Clinical Research in Occupational Therapy
Author:

Rice, Martin Stein, Franklin

Publisher:

Delmar Cengage Learning - Cengage Learning, Inc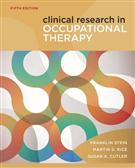 Thoroughly updated, the 5th edition of "Clinical Research in Occupational Therapy" enables the graduate student and clinical researcher to design and carry out a research study from the formulation of a research hypothesis to collecting data utilizing user friendly step-by-step procedures. An introductory chapter on the history of medical research acquaints the student with the relationship between research and clinical practice. Step-by-step procedures and examples are used throughout to guide the student through the process of selecting a topic, reviewing literature, designing research protocols, selecting outcome measures, implementing research, and writing the results. Descriptive and inferential statistics are explained in a step-by-step procedure, and examples of qualitative and quantitative research are included so as to provide the student with tools to conduct their own research and evaluate current research data. A section on writing questionnaires and surveys helps students construct reliable and valid instruments, and information on scientific writing and thesis preparation is presented. Additionally, ethical considerations for informed consent are addressed, with examples of consent forms included.
Find similar publications here: