World Health Organization
International Travel and Health 2011
Author:

World Health Organization (WHO)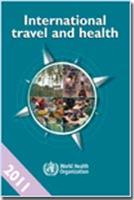 The 2011 edition of International Travel and Health by the World Health Organization (WHO), is primarily intended for medical and public health professionals who advise travellers, but is also a standard reference guide used by travel agents, airlines, and shipping companies as well as for travellers themselves to make sure they have the most up-to-date information.
Covering all the principal risks to travellers' health, both during their journeys and at their destinations, it describes all relevant infectious diseases, including their causative agents, modes of transmission, clinical features and geographical distribution, and provides details of prophylactic and preventive measures.
Features of this new edition include:
Updated and improved vaccine-preventable disease descriptions

Updated vaccine recommendations and schedules

Revised list of countries and areas at risk of yellow fever

Updated country list with malaria information

Updated maps showing disease distribution

Updated information for travellers with HIV.

Find similar publications here: