Public Procurement Opportunities
Contracts and Tenders – Public Procurement Opportunities
Up-to-date and comprehensive contract information is vital to any organisation wishing to open up new business opportunities and to maximise its earning potential. Governments and government funded or supported organisations are the biggest purchasers of goods and services in the European Union.
By having access to their invitations to tender, which include thousands of new UK and European business opportunities, you can ensure that you:
Gain advance leads on pre-qualifying and bidding
Assess demand for your goods or services by country, sector or contract value
Identify sources of finance
Track client plans and programmes
Trail competitors and potential partners
Detect prospects for sub-contracting.
All of the contract information services and products supplied by TSO offer comprehensive, up-to-the-minute information on public purchasing in the UK, the rest of Europe and aid funded projects worldwide. The range of delivery format allows accessible and flexible delivery of data, enhancing the probability of your organisation winning valuable business tenders. They are designed to help you make the best use of market intelligence and increase opportunities to identify clients and bid successfully. A selection of these are identified below.
Contract Information Services and Products:
Tracker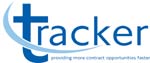 Tracker is the premier public sector contract information alert service that delivers straight to your desktop (via email) contract opportunities relevant to your business, giving you the capability to search for new business opportunities online. This is made possible through completing an online profile which, through keywords and product codes, identifies
precisely those contracts relevant to you. Tracker then delivers this
potential new business information every working day, so that you are the first to respond.
More...
Contrax

Contrax is the leading source of UK and Irish public sector contract information. Available as the only paper-based publication of its kind through Contrax Weekly and Contrax Weekly Ireland magazines and also with a new contract daily alert service and 24-hour online access,
Contrax is the perfect source of new business opportunities for
companies large or small within the UK and Ireland.
Free one-month trial or 15 months' subscription for the price of 12 available. More...

MoD Defence Contracts Bulletin


The only official UK Ministry of Defence publication dedicated to the promotion of UK defence contract information. This service includes details of possible future purchases and official subcontracting opportunities of major interest to Small and Medium-sized Enterprises (SMEs). MoD Defence Contracts Bulletin is available as a fortnightly magazine or can be accessed online through the official MoD Procurement Portal for buyers and suppliers at www.contracts.mod.uk. More...

Defense Contracts International

An internet-based international defence contract information service, DCI provides instant access to thousands of open contract announcements and award information sourced from defence agencies around the world, including the UK, USA, Europe, Asia and the Pacific Rim. More...

The Official Journal of the European Communities Supplement


This easy to use service allows you to access thousands of new UK and European business opportunities as well as monitoring your competitors' activities.More...