ITIL
Display:
ITIL Service Design - Book
Author:

Cabinet Office

Publisher:

TSO (The Stationery Office)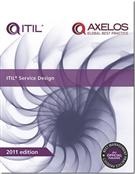 The ITIL 2011 Editions have been updated for clarity, consistency, correctness and completeness.
In order to meet current and future business requirements, 'ITIL Service Design' provides guidance on the production and maintenance of IT policies, architectures and documents for the design of appropriate and innovative IT infrastructure services solutions and processes.
Key features:
The updated ITIL publications share a similar standard structure (including generic content in Chapters 1, 2 and 6), to improve consistency and aid navigation. Some content has been reorganized to improve flow and readability, and ensure alignment across the suite - including clarification around interfaces, and inputs and outputs across the service lifecycle.
Terminology has been clarified and made consistent across the publications and the ITIL glossary.
Summary of Updates from the Author
Throughout the updated 'ITIL Service Design' publication, there has been particular focus on alignment with 'ITIL Service Strategy'.
A number of concepts and principles have been clarified, most significantly the flow and management of activity throughout the overall service design stage with the addition of the 'design coordination' process. Other significant clarifications include the five aspects of service design, the design of the service portfolio and the terminology related to views of the service catalogue.
Also available in ePub eBook format from all major eSellers. A full list of Best Management Practice eSellers is available on our help pages.
Related resources:
> ITIL Update FAQs - October 2011 (PDF - 677Kb)
> ITIL 2011 Edition Publication Reviews (opens in new window)
> ITIL Recommended Reading Diagram (PDF - 66.5Kb)

Find similar publications here: