Social Sciences
Family Justice Review
Final Report - November 2011
Author:

Ministry of Justice (MoJ)

Publisher:

TSO (The Stationery Office)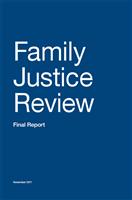 The 'Family Justice Review: Final Report' examines the effectiveness of the family justice system and the outcomes it delivers.
The Review covers both public and private law cases to explore the following key issues:
whether better use can be made of mediation and how best to support contact between children and non-resident parents or grandparents;

the processes (but not the law) involved in granting divorces and awarding ancillary relief; and

how the different parts of the family justice system are organised and managed.
The Review is aiming to produce a system which allows families to reach easy, simple and efficient agreements which are in the best interests of children whilst protecting children and vulnerable adults from the risk of harm.
This final report takes into account views expressed during the consultation on the interim report and the call for evidence. It makes a number of recommendations to improve public and private law and looks at how the agencies within the family justice system could work together more effectively to improve the experience for children and families.

Find similar publications here: