Good Clinical Practice Guide
Author:

Medicines and Healthcare products Regulatory Agency (MHRA)

Publisher:

TSO (The Stationery Office)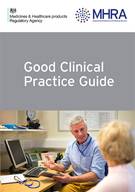 The Good Clinical Practice Guide covers the legislation, guidance and good practice that relates to the conduct of clinical trials of medicinal products for human use in the UK.
Detailed and authoritative, this guide provides practical advice about implementing the principles of Good Clinical Practice within the context of the clinical trial regulatory framework in the European Union.
Written and produced by the MHRA, this is the only guide on Good Clinical Practice available within Europe which has been produced by a regulatory agency.
This title is aimed at any individual and/or organisation involved in conducting clinical trials with medicines in the UK, including both commercial and non-commercial sponsors and hosts of clinical trials, as well as contract research organisations, clinical research consultants and other niche providers.
The guide references European legislation and guidance as well as international standards, so will also be relevant to organisations conducting trials across Europe and beyond.
Now available as an eBook from your devices store:
Kobo.
For more information or to order by phone, please call 01603 69 6980 and speak to one of our customer service agents.
Testimonials:
"This is an impressive and detailed overview of clinical trials that will add value to all working in this field on a global basis, not just in the UK. The consistency of style throughout is surprising and welcome." Alec Deighton, Representative of the Association of Clinical Research Organizations (ACRO)
"The MHRA Good Clinical Practice Guide provides the first comprehensive guide to the interpretation and implementation of current EU GCP legislation. It covers all aspects of GCP, including where GCP interfaces with other areas, such as IMP management, pharmacovigilance, laboratories and e-compliance. It also provides valuable examples of MHRA's common findings and insightful suggestions for best practice. This book is a welcome addition to current reference literature, and belongs on the bookshelf of everyone involved in clinical trials." Barney Horne, Member of the British Association of Research Quality Assurance (BARQA) GCP Committee
"The step by step approach was excellent and the regulatory view both measured and proportionate. The text is clear, appropriate in tone and pitched at the right levels. The examples are relevant and instructive." Professor Christian Ottensmeier MD PhD FRCP, Department of Medical Oncology, Southampton University Hospitals
"The Guide is a very welcome development. It will help those involved in the conduct of clinical trials in the UK to better understand the expectations of the MHRA. It is clearly written without the use of technical jargon, and includes useful examples from both commercial and non-commercial inspections to illustrate the principles the MHRA is seeking to promote. The risk-based approach is well integrated throughout the guide." Sarah Meredith, Deputy Director, Medical Research Council (MRC) Clinical Trials Unit
Content of Chapters:
1. Sponsor Oversight
2. Clinical Trial Authorisations
3. Ethical Review
4. Key Trial Documentation
5. Pharmacovigilance for Clinical Trials
6. Investigational Medicinal Products
7. Monitoring
8. Data Management
9. Statistics
10. Trial Master File and Archiving
11. Investigator Sites
12. Phase I Clinical Trials
13. Clinical Trial Samples - Analysis and Evaluation
14. Quality Systems
Annex 1: Introduction to GCP Inspections
Annex 2: Relevant legislation and guidance
Annex 3: Advanced Therapy Investigational Medicinal Product Trials
Annex 4: Considerations for the use of electronic systems in clinical trial management