Environment
Financial Management Report 2011: Department for Environment, Food and Rural Affairs
HC 1593, Report by the Comptroller and Auditor General, Session 2010-12
Author:

National Audit Office (NAO)

Publisher:

TSO (The Stationery Office)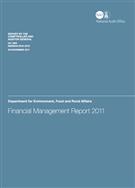 The 'Financial Management Report 2011 (HC 1593)' advises that despite the Department for Environment, Food and Rural Affairs (Defra) making improvements to its financial management, the NAO cannot yet conclude that the Department is achieving value for money in its financial management activity. This is due to the expectations of the spending watchdog, having anticiapted faster progress in improvements to performance since it last reported in 2008, and a higher level of financial maturity given the resources spent and the focus on financial management.
The Department has undertaken a number of projects designed to strengthen its financial management which have had some positive results, such as revised management reporting and improved forecasting, although the Department has not fully assessed all the benefits of these projects.
Despite increasing the number of permanent, qualified finance staff and also offering financial skills training courses for non-financial staff, there are still weaknesses in financial capability.
Recommendations of the report include:
financial skills could be better integrated across the Department;

the Department should focus on improving its commercial skills, such as contract management; and

it should develop a strategic model for engagement with its arm's-length bodies, to understand the risks that they face and opportunities open to them.
Since 2002, Defra has consistently underspent against its Parliamentary estimate. The underspend in 2010-11 was £530 million (10%). The Department has, however, improved its management of expenditure against its departmental expenditure limit, reducing its underspend in 2010-11 to £34 million (1% of expenditure).

Find similar publications here: