Environment
Strategically Important Metals
HC 726, Fifth Report of Session 2010-12 - Report, Together with Formal Minutes, Oral and Written Evidence
Author:

House of Commons - Science and Technology Committee

Publisher:

TSO (The Stationery Office)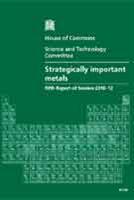 'Strategically Important Metals (HC 726)' deals with perceived notions relating to scarcity of certain minerals and metals which may lead to increased speculation and volatility in price and supply.
Although most strategic metal reserves are unlikely to run out over the coming decades it is important that the Government provide reliable information on potential resource risks in a coordinated and coherent way.
Strategically important metals are vital to advanced manufacturing, low-carbon technologies and other growing industries: the UK also exports large quantities of scrap metal and waste electrical and electronic equipment (WEEE), often to developing countries.
WEEE may in fact be a potential resource for the UK and is also an example of the UK exporting its environmental problems elsewhere. There are also concerns about the illegal export of WEEE, which is often labelled as second hand equipment for re-use, and calls for safeguards to be put in place.
Despite a rate of 90% (by weight) metal recycling in the UK, it is of great concern that some strategic metals are likely to be lost in the 10% not being recycled.
This report recommends:
Improving existing legislation to ensure companies implement requirements on reporting non-financial information, such as human rights and health and safety issues.

An evaluation by the Government of the potential for introducing similar legislation to that in the US whereby companies are required to produce detailed reports on 'conflict minerals' that they use.
This report also brings the alleged activities of large dealers on the London Metals Exchange to the attention of the Office of Fair Trading.
Finally, the report looks at domestic extraction and says planning regulations should not unnecessarily restrict the use of significant potential reserves and that domestic mining could alleviate risks associated with sourcing metals from external supply monopolies.
In parallel the Government has to invest in research to ensure that future domestic mining has the least possible environmental impact.

Find similar publications here: