European Pharmacopoeia 6th Edition - Supplement 6.8
English version
Author:

European Pharmacopoeia Commission - Council of Europe European Department for the Quality of Medicines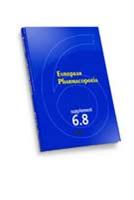 The 6th edition of the European Pharmacopoeia came into force on 1 January 2008 and consists of a two-volume main edition. The European Pharmacopoeia is a single reference work for the quality control of medicines in Europe. All producers of medicines or substances for pharmaceutical use must apply the quality standards of the European Pharmacopoeia for the marketing and use of these products in Europe.
The European Pharmacopoeia is updated on a regular basis with a series of eight non-cumulative supplements available by 2010.
Supplement 6.8 publishes in January 2010 for implementation in July 2010. Supplements are published in accordance with the Convention on the elaboration of a European pharmacopoeia (European treaty series no. 50). They are non-cumulative supplements.
Supplement 6.6 publishes in June 2009 for implementation in January 2010. Supplement 6.7 publishes in October 2009 for implementation in April 2010.
Supplements 6.6-6.8 are also available to purchase as a pack, in both English and French versions. Please see below for more details.
Key features:
Official and fully up-to-date monographs for July 2010 implementation

Clear guidance on texts that have been revised and deleted

User-friendly index system with references to the latest supplements.

Find similar publications here: