Service Strategy PDF
2nd impression
Author:

Office of Government Commerce (OGC)

Publisher:

TSO (The Stationery Office)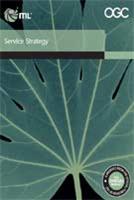 A view of ITIL that aligns business and IT so that each brings out the best in the other. It ensures that every element of the Service Lifecycle is focused on customer outcomes and relates to all the companion process elements that follow. Subsequent titles in the core set will link deliverables to meeting the business goals, requirements and service management principles described in this publication.
Each of the five core titles shares a consistent structure; the various practice elements are easily navigated and extensively cross-referenced. Concepts and guidance in this publication include:
Service Management strategy and value planning.

Linking IT service strategy to business needs.

Planning and implementing service strategy.
A PDF allows for easy access while you're on the move:
Single user

Non-networkable

Basic downloadable PDF: searchable with a bookmarking function.
Please see our PDF Downloads help page for more information on purchasing and downloading electronic publications.
Related resources:
> Service Strategy Contents and Introduction - PDF (234KB)
> Service Strategy 1st Impression Amendments - PDF (84KB)
> Service Strategy Publication Review (opens in a new window)
> Core Study Material for ITIL V3 Qualifications Diagram (PDF - 88Kb)
> ITIL Version 3 Lifecycle Process Model (opens in a new window)
> 'Everything you wanted to know about ITIL in less than one thousand words' White Paper by Jane Clark, Management Consultant from Connect Sphere Limited (PDF - 556Kb)
> 'An Introductory Overview of ITIL V3' Pocketbook (PDF - 647Kb)
Extent
264 pages
ISBN
9780113310524
Size
6.82Mb
Price

£85.00

(

£102.00

inc. VAT)
Format
Downloadable PDF
Published
05 Jun 2007
Availability

Available Immediately

Already own a copy?
We are interested in your opinion. Please
review this publication
. (Opens in a new window.)
Find similar publications here: