British Pharmacopoeia 2011
Order NOW - legally effective from 1 January 2011
Author:

British Pharmacopoeia Commission

Publisher:

TSO (The Stationery Office)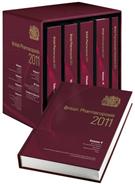 Containing 51 new monographs for formulated preparations, and additional standards for widely used unlicensed formulations, the British Phamacopoeia (BP) 2011 edition becomes legally effective from 1 January 2011, so place your order now.
The BP is the leading global collection of standards for UK medicinal products and pharmaceutical substances. Produced by the British Pharmacopoeia Commission Secretariat of the Medicines and Healthcare products Regulatory Agency, the BP makes a valuable contribution to public health by setting publicly available standards for the quality of medicines.
Used in almost 100 countries, the BP remains an essential reference for all individuals and organisations working within pharmaceutical research and development, manufacture, and testing across the globe.
Clearly laid out sections include monographs that set out the mandatory standards for active substances, excipients, formulated preparations, blood-related products, immunological products, radiopharmaceutical preparations, surgical materials, herbal and complementary medicines; together with supporting General Notices, test methods, infrared spectra and supplementary information.
European Pharmacopoeia monographs are clearly distinguished and cross-referenced while a full index assures easy access to the current legally binding UK standards.
The British Pharmacopoeia 2011 package
To provide you with a truly flexible resource, this edition includes:
Six printed volumes, (volume 3 has been split for ease of reference), including a single volume of the BP (Veterinary) 2011

An online version via www.pharmacopoeia.co.uk (single-user licence) that can also be accessed via your iPhoneŽ or iPadŽ

Three free online updates in January, April and July to harmonise BP with the European Pharmacopoeia

European Pharmacopoeia 6th edition material up to, and including Supplement 6.8

A fully linked and searchable CD-ROM (single-user licence)
Online access and CD-ROM
Following registration using an ID code supplied with the printed version, a single user licence to BP online will be granted. There is also the option to request the comprehensive and fully searchable CD version.
Maximise your access
For organisations that have several people wishing to access vital information from BP 2011 simultaneously, cost effective network licences are available. Please call 01603 696701 for more details and pricing.
iPhoneŽ is a registered trademark of Apple Inc. iPadŽ is a trademark of Apple Inc.

Find similar publications here: