National Policy Statement for Waste Water: A Framework Document for Planning Decisions on Nationally Significant Waste Water Infrastructure
Author:

Department for Environment, Food and Rural Affairs (DEFRA)

Publisher:

TSO (The Stationery Office)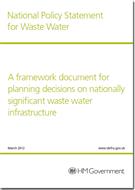 Waste water treatment infrastructure is essential for public health and a clean environment. 'National Policy Statement for Waste Water: A Framework Document for Planning Decisions on Nationally Significant Waste Water Infrastructure' sets out the Government's policy for the provision of major waste water infrastructure as defined in the Planning Act 2008 (see below).
Demand for new and improved waste water infrastructure is likely to be driven by:
more stringent statutory requirements to protect the environment and water quality;

population growth and urbanisation;

replacement or improvement of infrastructure; and

adaptation to climate change.
This Policy Statement will be used as the primary basis for deciding development consent applications for waste water developments that fall within the definition of Nationally Significant Infrastructure Projects (NSIP).

Find similar publications here: