Social Care
HC 1583-I, Fourteenth Report of Session 2010-12 - Volume I: Report, Together with Formal Minutes
Author:

House of Commons - Health Committee

Publisher:

TSO (The Stationery Office)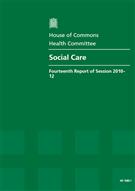 The report 'Social Care (HC 1583-I)' finds that older people are being let down by fragmented care services. The key to improving the delivery of services as well as the required efficiency savings for the National Health Service (NHS), will be to join up the different commissioning sources.
The new clinical commissioning groups and local councils should create a single commissioning process, with a single accounting officer, and a single outcomes framework for older people's health, care and housing services. This would improve outcomes by making it easier to move money around the local health, housing and social care system.
The report also urges the Government to:
coordinate policy more effectively across Whitehall and regularly rebalance national spending across health, housing and care services;

replace the three overlapping frameworks that currently exist;

recognise the widening "funding gap" in social care services;

accept the recommendations in the Dilnot report (see below) for a series of caps on care costs and identify the level at which these caps should be set;

ensure that General Practitioners identify much earlier and assess more clearly the needs of carers providing essential informal care to the old and the vulnerable; and

develop a new legal framework to support the integration of health, social care and other services around the needs of the individual.
Oral and written evidence is also available for this report (see below).

Find similar publications here: