Accessible Train Station Design for Disabled People: A Code of Practice Version 03 - valid from November 2011
Author:

Department for Transport/Transport Scotland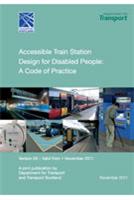 Add to Basket
There are over 10 million people in Great Britain with a disability and the Government is committed to providing transport for all. Improving the accessibility of railway stations as well as their services will encourage more disabled people to use the railway network and to do so more regularly.
The purpose of this Code of Practice is to assist those operating passenger trains and stations in making railway travel easier for disabled passengers. It identifies standards relevant for all passenger train and station operators in Great Britain that licensed operators must follow whenever they install, renew, or replace infrastructure or facilities. The Code also provides advice and recommendations of good practice that all operators can implement in order to provide greater opportunity to travel for disabled people using the railways.
Updates have been made to this version to more accurately convey the British Standards and to reflect recent changes in Guidance.
This publication, 'Accessible Train Station Design for Disabled People: A Code of Practice Version 03', replaces the 2010 edition ('Accessible Train and Station Design for Disabled People: A Code of Practice Version 02').
Print on Demand: A copy of this title will be printed in colour by TSO upon your request. This title is usually dispatched within 3-5 working days.
Find similar publications here: