Trade Profiles 2011
Author:

World Trade Organization (WTO)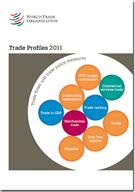 'Trade Profiles 2011' provides a country-by-country breakdown of trade flows and trade policy measures for WTO members and countries seeking to join the WTO. With information provided in a standardized format for each country, this publication is an invaluable quick reference tool for anyone looking for essential trade statistics.
The data provided for each country includes basic economic indicators (such as GDP), trade policy indicators (such as tariffs and import duties), merchandise trade flows (broken down by broad product categories and major origins and destinations), commercial trade flows (with a breakdown by major components) and industrial property indicators (such as annual number of patents granted).
Presented in a handy format, with one page devoted to each country, Trade Profiles offers a concise overview of global trade.

Find similar publications here: