Regeneration
HC 1014, Sixth Report of Session 2010-12 - Volume I: Report, Together with Formal Minutes, Oral and Written Evidence
Author:

House of Commons - Communities and Local Government Committee

Publisher:

TSO (The Stationery Office)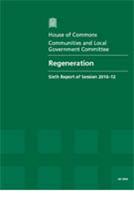 The Government set out its new approach to regeneration in Regeneration to enable growth: What Government is doing in support of community-led regeneration (DCLG). 'Regeneration (HC 1014)' reports the Communities and Local Government Committee's lack of confidence in the Government having a clear strategy for addressing the country's regeneration needs.
The Committee thinks the new approach lacks strategic direction and is unclear about the nature of the problem it is trying to solve. It focuses overwhelmingly upon the achievement of economic growth, giving little emphasis to the specific issues faced by deprived communities and areas of market failure. The proposed measures are unlikely to bring in sufficient resources.
Funding for regeneration has been reduced dramatically and disproportionately over the past two years, and unless alternative sources can be found, there is a risk of problems being stored up for the future. Also lacking is a strategy for attracting private sector investment. And the document gives too much prominence to changes to the planning system and does not acknowledge the benefits effective planning has brought to regeneration.
The financial and economic climate has impacted dramatically upon regeneration, but the withdrawal of Housing Market Renewal Funding in particular has created significant problems, leaving many residents trapped in half-abandoned streets.
The Committee suggests a number of measures that could, as part of a wider approach, contribute to stimulating regeneration and incentivising private sector involvement. The Government should now produce a national regeneration strategy which sets out a coherent approach to tackling deprivation and market failure in the country's most disadvantaged areas.

Find similar publications here: