Operations in Afghanistan
HC 554, Fourth Report of Session 2010-12 - Volume I: Report, Together with Formal Minutes, Oral and Written Evidence
Author:

House of Commons - Defence Committee

Publisher:

TSO (The Stationery Office)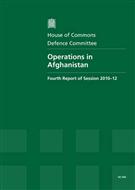 'Operations in Afghanistan (HC 554)' looks at operations in Afghanistan since 2006 and makes further recommendations for the anticipated draw-down of forces.
UK Forces were deployed in Helmand Province in Afghanistan for three years from 2006 without the necessary personnel, equipment or intelligence to succeed in their mission.
Mistakes were made as a result of a failure in military and political coordination. The decision to move UK Armed Forces into the South of Afghanistan in early 2006 was not fully thought through.
The Committee is concerned that the Ministry of Defence (MoD) did not anticipate that the presence of the Armed Forces in Helmand might stir up a hornets' nest, especially as much of the intelligence was contradictory. Senior military advisers should have drawn attention to the need for force levels to be sufficiently robust to cope with an unpredictable conflict.
The Committee is disturbed that the Secretary of State was told that commanders on the ground were content with the support they were being given in Helmand when clearly they were not.
After only a matter of months in Helmand, the nature of the UK Mission changed, with serious strategic implications. The MoD did not respond quickly enough to changes in Taliban tactics.
The MoD should prioritise the protection of personnel. The Government's room for manoeuvre regarding the number of troops that could be withdrawn from Afghanistan as part of an immediate transition is necessarily limited.
More emphasis needs to be placed on capacity building within the political system if long-term success is to be achieved.

Find similar publications here: