The Humanitarian Response to the Pakistan Floods
HC 615, Seventh Report of Session 2010-12 - Report, Together with Formal Minutes, Oral and Written Evidence
Author:

House of Commons - International Development Committee

Publisher:

TSO (The Stationery Office)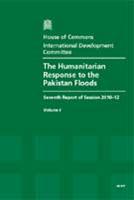 'The Humanitarian Response to the Pakistan Floods (HC 615)' details the International Development Committee's findings that only $700 million of a $2 billion appeal has been delivered on the ground to help those in need, which is unacceptable given that there are millions of people still in need of humanitarian assistance and living in camps.
The floods covered one-fifth of the country, an area larger than England, and affected 18 million people. More than 1,900 lost their lives, 12 million were displaced and 1.7 million homes were damaged or destroyed.
The scale of the floods overwhelmed the capacity of the international system, already stretched by the earthquake in Haiti, to respond effectively. The UN response was patchy with poor leadership and coordination.
This Report also calls on the Department for International Development (DfID) and the wider international community to pay greater attention to disaster preparedness and risk reduction as climate change is likely to increase the frequency and severity of natural disasters.
Densely populated urban areas are at greatest risk in terms of loss of life and livelihoods. DfID provided £134 million in humanitarian assistance and the British public donated at least £64 million directly to Non-Governmental Organisations (NGOs) through the Disasters Emergency Committee (DEC) appeal. In addition many Pakistanis living in the UK helped by increasing their level of remittance.

Find similar publications here: