Video Games Industry in Scotland
HC 500-I, Second Report of Session 2010-11 - Volume I: Report, Together with Formal Minutes, Oral and Written Evidence
Author:

House of Commons - Scottish Affairs Committee

Publisher:

TSO (The Stationery Office)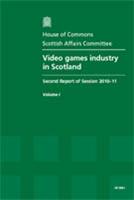 In the report 'Video Games Industry in Scotland (HC 500-I)', the Committee urges the Government to make the future of the video games sector a priority in the face of emerging barriers for growth. This is a golden age of opportunity for the industry and proper support for small companies accessing global audiences is vital; it is potentially a world leader for the UK.
Committee concerns:
Overseas government subsidies, cheaper labour markets and skills shortages have created an uneven international playing field and more encouragement for development and growth is needed.

There is a shortage of adequately qualified graduates to sustain the industry; skills gained from subjects like Mathematics and Computer Science are required.
The possibility of a games industry tax relief should be kept under review and a comprehensive assessment of the benefits of a games tax relief should be carried out, along with an examination of countries whose industries flourish without such support.
The creation and retention of intellectual property is seen as a priority issue for the UK video games industry and the Government's review of intellectual property taxation will be monitored. The failure of the creative industries Minister to lobby the Treasury directly on games tax relief is both surprising and disappointing and the Committee asks the Government to explain how the industry's voice will be heard properly in future.

Find similar publications here: