Commissioning
HC 513-I, Third Report of Session 2010-11 - Volume I: Report, Together with Formal Minutes
Author:

House of Commons - Health Committee

Publisher:

TSO (The Stationery Office)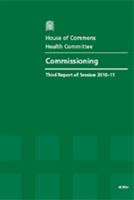 'Commissioning (HC 513-I)' reports on National Health Service (NHS) commissioning and concludes that more effective commissioning is key to delivery of efficiency gains.
The NHS needs to make unprecedented efficiency gains if it is to meet rising demand for healthcare against the background of budgets which are broadly stable in real terms (the Nicholson Challenge).
The White Paper proposal to abolish Primary Care Trusts and transfer commissioning responsibility to GP-led consortia was not foreshadowed in the Coalition Programme and came as a surprise to most observers.
This "surprise" approach created uncertainty among commissioners and therefore increased the risks and costs associated with delivery of the Nicholson Challenge.
This report sets out the crucial issues which the forthcoming Health Bill should address:
(i) The development of a commissioning structure which is both effective and accountable.
(ii) Accountability: which must apply through ministers to Parliament, as well as to patients and local communities.
(iii) Effective and accountable commissioning - which requires the engagement of the entire clinical community (GPs have a major role as a catalyst for this process, but not as the ultimate arbiters of all commissioning decisions).
In addition commissioners will need to be able to:
(i) Adopt integrated service solutions (which cross institutional boundaries) when these offer best value.
(ii) Consider innovative proposals for primary care - as well as for hospital care.
(iii) Realise the benefits which may be available to patients from major service reconfiguration.
(iv) Consider more effective structures for managing the interface between the NHS and Social Care.
(v) Reconcile conflicts between enhanced patient choice and the commissioner's own financial and clinical priorities.

Find similar publications here: