Training of Teachers
HC 275-I, Fourth Session of 2009-10 – Volume I: Report, Together with Formal Minutes
Author:

House of Commons – Children, School and Families Committee

Publisher:

TSO (The Stationery Office)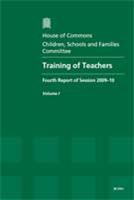 Major reforms must be introduced to help newly qualified teachers make the transition from their initial training to their first teaching post. The pressures on teachers at the start of their careers are considerable and the Committee calls for measures that reduce the front-loaded nature of teacher training. Much greater space and incentives for early career teachers to supplement initial training with a relevant masters qualification are vital. Mentoring support for these teachers must be improved and extended.
In 'Training of Teachers (HC 275-I)' the Committee urges radical changes to teacher professional development, including the introduction of a single overarching framework for the management of teachers' career progression. It says the 'Chartered Teacher' framework would encompass a licence to practise and link pay and progression to the completion of a masters qualification and, thereafter, to completion of further accredited training. Entry requirements for much initial teacher training provision are too low and the bar must be raised.
Reforms should include discontinuing undergraduate programmes for those wanting to be secondary school teachers which attract the poorest qualified candidates and requiring postgraduate trainees to have a lower-second degree or above. The Committee also says that supply teachers must be brought into the mainstream of the profession, that, in the context of the 14-19 reforms, school and further education teachers should have much greater mobility across the two sectors, and that the training of early years, school and further education teachers should be harmonised through generic standards.