Reducing Costs in the Department for Transport
HC 1760, Seventy-first Report of Session 2010-12 - Report, Together with Formal Minutes, Oral and Written Evidence
Author:

House of Commons - Committee of Public Accounts

Publisher:

TSO (The Stationery Office)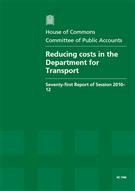 The 2010 Spending Review announced the Government's significant reduction to the budget of the Department for Transport (DfT). 'Reducing Costs in the Department for Transport (HC 1760)' looks at the DfT's spending and planned reductions, which is due to be 15% lower by 2014-15 than the Department's £12.8 billion budget in 2010-11.
The Department prepared early, identifying areas for budget reductions based on good analysis. But for road users, railway passengers and taxpayers, there are many questions which remain unanswered.
The Department doesn't fully understand the impact of its cuts to road maintenance. There is concern that short-term budget cutting could prove counter-productive, costing more in the long-term as a result of increased vehicle damage and the higher cost of repairing the more severe road damage.
Another area of concern is rail spending. The Department spends two-thirds of its budget through third party organisations such as Network Rail and Transport for London. While information and assurance have improved over some third party spending, there is still a lack of proper accountability and transparency for Network Rail.
Rail budgets aren't being reduced as much as other areas, yet passengers still face high fares. The Department pays Network Rail £3 billion each year, underwrites debt of over £25 billion and continues to treat it as a private sector company.
The National Audit Office must be allowed full audit access as quickly as possible.

Find similar publications here: