The Official DSA Complete Learner Driver Pack 2010 Edition
Set of 3 Books
Author:

Driving Standards Agency (DSA)

Publisher:

TSO (The Stationery Office)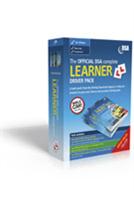 This value pack contains three official books to help you fully prepare to pass your car theory and practical driving tests first time. Buy this pack and save over 40% at the special sale price of £14.99 - while stocks last!
The Official DSA Theory Test for Car Drivers and The Official Highway Code
Written by the people who set the test

Every official theory test revision question and answer

Full DSA explanations of the answers

Preparation for case studies on every topic

References to the official test source material throughout to aid understanding

Question, answer and explanation on the same page

Includes The Official Highway Code

Explains what to expect at the test centre on the day

RRP for this book £12.99
The Official DSA Guide to Learning to Drive
Fully explains the standards required to pass today's practical driving test

The 24 key driving skills you will be tested on are explained in detail

Contains advice on how to get the most out of private practice

Explains what the examiner is looking for during your test.

RRP for this book £9.99
The Official DSA Guide to Driving - the essential skills
Provides the source material for car and driving instructor theory tests (along with The Official Highway Code and Know Your Traffic Signs) - study this material to prepare fully for your test

Driving Essential Skills is referenced throughout the latest DSA theory test titles for car drivers

Packed with loads of useful advice for learners, experienced drivers and instructors to help you stay safe on the road

Contains information on essential driving techniques, including manoeuvring and defensive driving, driving at dusk, night and in adverse weather conditions, negotiating road works and emergency diversion routes, and overtaking slow-moving vehicles

Includes details on vehicle maintenance and security

RRP for this book £12.99.
From the Driving Standards Agency - the people who set the driving tests.

Find similar publications here: