Maritime Statistics 2008
Transport Statistics Report
Author:

Department for Transport (DfT)

Publisher:

TSO (The Stationery Office)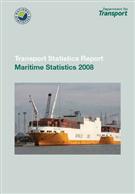 'Transport Statistics Report Maritime Statistics 2008' contains a compilation of statistics about passenger and freight traffic through UK ports, as well as on merchant ships owned or registered in the UK and the Crown Dependencies, and the world fleet. Published every year this is the most up-to-date publication for maritime statistics.
This 2009 edition includes data on:
All Ports of the UK - Foreign and Domestic Traffic

Unitised Traffic

Other Port Statistics including Individual Port Tables

Historic Port Freight and Passenger Traffic Statistics

UK Owned and Managed Fleets and Vessels

UK Registered Vessels

Historic Fleet Summary.

Find similar publications here: