An Investigation into Border Security Checks
Author:

Independent Chief Inspector of the UK Border Agency

Publisher:

TSO (The Stationery Office)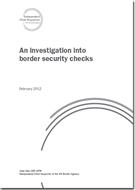 'An Investigation into Border Security Checks' is a report from the Chief Inspector of the UK Border Agency on the level of checks operated at ports of entry to the UK. This follows the disclosure that some checks may have been suspended without the approval of ministers and the subsequent suspension of the then Head of Border Force.
The investigation focuses on:
the Home Office Warnings Index (WI) - used to ascertain whether passengers are of interest to the Government agencies;

Secure ID - checking passengers' fingerprints at immigration control against those provided in the visa application process; and

the risk-based measures pilot used to identify where it was no longer routine to open the biometric chip or perform WI checks within European Economic Area passports.
The suspension of checks was reportedly dependent upon the volume of passengers, the level of risk presented, the staff available and the infrastructure of the ports. Overall, the Chief Inspector found poor communication, managerial oversights and a lack of clarity about roles and responsibilities. There was no single framework to set out potential border security checks, which of these could be suspended, in what circumstances and by what level of authority.
A new framework of security checks is urgently needed, unambiguously specifying checks that must always be carried out and those where there is discretion to suspend.

Find similar publications here: