Regulation of Television Advertising
HL 99, First Report of Session 2010-11 - Report with Evidence
Author:

House of Lords - Select Committee on Communications

Publisher:

TSO (The Stationery Office)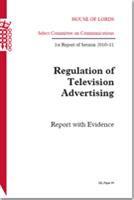 This report, 'Regulation of Television Advertising (HL 99)' from the Select Committee on Communications calls for a reduction in the time allowed for advertisements on commercial broadcasting channels. Existing regulation of the market is no longer relevant in the digital age and doesn't serve the best interests of viewers.
The Committee recommends that:
The Code on Scheduling of Television Advertising should be harmonised to level the playing field between public service and commercial broadcasters when Digital Switchover happens in 2012.

A reduction in the quantity of advertising airtime that broadcasters are allowed to sell would greatly improve the viewer experience and would be fairer to the public service broadcasters - ITV 1, Channel 4 and Channel 5 - who are limited more than all other commercial channels at the moment.

All channels should be allowed an average of seven minutes per hour, appropriate peak time maximum to be determined after research from Ofcom.
The Committee has also looked at specific regulations which affect ITV 1, known as the Contract Rights Renewal undertakings. These undertakings should be removed as long as they are replaced with binding undertakings from ITV plc to invest an appropriate proportion of any additional revenues from advertising in creating UK originated programming and training. The Committee is calling on ITV's bosses to deliver on the commitments they have made to the Committee - to increase its investment on quality, UK originated programming in return for the removal of CRR and also to invest in training within the industry.

Find similar publications here: