Expert Evidence in Criminal Proceedings in England and Wales
HC 829
Author:

The Law Commission

Publisher:

TSO (The Stationery Office)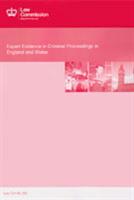 'Expert Evidence in Criminal Proceedings in England and Wales (HC 829)' follows discussion of the consultation paper 'The Admissibility of Expert Evidence in Criminal Proceedings in England and Wales: A New Approach to the Determination of Evidentiary Reliability - Consultation Paper 190' and outlines the Law Commission's recommendation that there should be a new reliability-based admissibility test for expert evidence in criminal proceedings.
Currently, too much expert opinion evidence is admitted without adequate scrutiny because no clear test is being applied to determine whether the evidence is sufficiently reliable to be admitted.†Juries may therefore be reaching conclusions on the basis of unreliable evidence, as confirmed by a number of miscarriages of justice in recent years.
The test would not need to be applied routinely or unnecessarily, but it would be applied in appropriate cases and it would result in the exclusion of unreliable expert opinion evidence. Under the test, expert opinion evidence would not be admitted unless it was adjudged to be sufficiently reliable to go before a jury.
The draft 'Criminal Evidence (Experts) Bill' published with the report (as Appendix A) sets out the admissibility test and also provides the guidance judges would need when applying the test, setting out the key reasons why an expertís opinion evidence might be unreliable.†The Bill also codifies (with slight modifications) the uncontroversial aspects of the present law, so that all the admissibility requirements for expert evidence would be set out in a single Act of Parliament and carry equal authority.

Find similar publications here: