Establishing Free Schools: Department For Education
HC 881, Report by the Comptroller and Auditor General, Session 2013-14
Author:

National Audit Office (NAO)

Publisher:

TSO (The Stationery Office)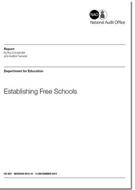 Add to Basket
'Department For Education: Establishing Free Schools (HC 881)' finds that the Department for Education (DFE)' has made clear progress in implementing its Free Schools programme by opening 174 such schools since 2010.
Many of these new all-ability state schools set up following proposals from different groups and, as academies, funded directly by the DFE, have been established quickly and at relatively low cost and the Department's assessment of proposals has improved.
However, the primary factor in decision-making has been opening schools at pace, rather than maximizing value for money. DFE is now establishing a wider approach on how it could maximise its benefits in deciding on which schools to approve.
At £6.6 million a school, the average unit cost of premises is now more than double the DFE's original planning assumption, though the current assumption now reflects actual costs.
Because the programme is demand led, there is uncertainty about types of schools and where they will be located. Most primary Free Schools are in areas that need extra school places but there have been no applications in half of all districts with high or severe forecast need for school places.
Overall, Free Schools opened with three-quarters of planned admissions in their first year, but there have been significant variations between schools.
Oversight of the schools has evolved, but serious financial management and governance concerns raised in two recent investigations by the Education Funding Agency highlight the risks in some schools, and the need systematically to address lessons learned as the programme develops.
Find similar publications here: