Confidentiality Clauses And Special Severance Payments: Investigation
HC 130, Report by the Comptroller and Auditor General, Session 2013-14
Author:

National Audit Office (NAO)

Publisher:

TSO (The Stationery Office)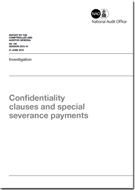 Add to Basket
The report 'Confidentiality Clauses And Special Severance Payments: Investigation (HC 130)' highlights the lack of central or coordinated controls over the use of compromise agreements.
Public sector workers are sometimes offered a financial payment in return for terminating their employment contract and agreeing to keep the facts surrounding the payment confidential; contracts are often terminated through the use of a compromise agreement and the associated payments are referred to as special severance payments.
There is a lack of transparency, consistency and accountability in the use of compromise agreements in the public sector, and little is being done to change this situation. Although the NAO was not able to gauge the prevalence of such agreements or the associated severance payments, due to decentralised decision-making, limited recording and the inclusion of confidentiality, no individual body has shown leadership to address the issues, and despite the NAO's statutory access rights, it received only 60% of the compromise agreements requested from departments.
Compromise agreements can be used for legitimate reasons and it is normal that some information be kept confidential which can benefit both parties; but the practice of including a clause to ensure the employer gives the employee a good reference could help poorly performing staff members gain employment elsewhere in the public sector.
Neither the Cabinet Office nor the Treasury provide formal guidance to departments or keep records of the use of compromise agreements across Government or the content of confidentiality clauses.
Find similar publications here: