High Speed 2: A Review Of Early Programme Preparation: Department For Transport
HC 124, Report by the Comptroller and Auditor General, Session 2013-14
Author:

National Audit Office (NAO)

Publisher:

TSO (The Stationery Office)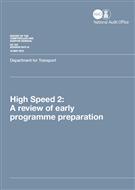 Add to Basket
'High Speed 2: A Review Of Early Programme Preparation: Department for Transport (HC 124)' examines the progress progress by the Department for Transport in planning for the High Speed 2 (HS2) rail network.
The report expresses a number of reservations about the Department's business case:
the strategic need for a transformation in rail capacity and how HS2 will help generate regional economic growth has been poorly articulated;

the methodology for appraising the project puts a high emphasis on journey-time savings, but the relationship between these savings and the strategic reasons for undertaking the project is unclear;

the benefit-cost ratio calculated for phase one has twice contained errors, and the Department has been slow to carry out its own assurance of the underlying analysis;

the Department has not researched how business travellers use their time on trains; and

HS2 Limited has not yet analysed the effect on passenger demand, revenues and the benefit-cost ratio of charging passengers premium prices.
The NAO estimates that there is a £3.3 billion funding gap over four years (2017-18 to 2020-21) which the Government has yet to decide how to fill.
Find similar publications here: