Early Action: Landscape Review: Cross-Government
HC 683, Report by the Comptroller and Auditor General, Session 2012-13
Author:

National Audit Office (NAO)

Publisher:

TSO (The Stationery Office)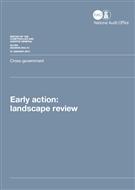 Add to Basket
Early action is the early deployment of resources by public bodies to prevent problems occurring or getting worse in service provision, rather than spending money reactively once those problems have occurred; 'Early Action: Landscape Review: Cross-Government (HC 683)' concludes that determined leadership is necessary to divert resources away from highly visible current needs, towards long-term early action programmes - particularly at times of fiscal austerity.
Evidence of early action's impact and cost-effectiveness is thin, and since information on costs within most departments is also inconsistent, specifying an amount that could be reduced within the estimated £377 billion of 'social spending' in 2011-12 is not possible; however, projects with the strongest evidence base show that some early action projects can achieve returns of up to four to one.
The Government has adopted the principle that early action is important in public service provision but does not plan a significant shift in resources. The total amount spent each year by the Department of Health, Department for Education, Home Office and Ministry of Justice on early action intervention programmes has remained fairly constant at around £12 billion, about 6% of the departments' spending in 2011-12.
Key challenges for the design and implementation of early action programmes include:
more consistent and robust gathering of evidence of what works;

overcoming short-term thinking and other practical barriers;

effective cross-Government coordination of early action; and

strengthening departments' capacity to innovate and take bold long-term decisions.
Find similar publications here: