Support to High Intensity Operations
HC 508, Report by the Comptroller and Auditor General, Session 2008-2009
Author:

National Audit Office (NAO)

Publisher:

TSO (The Stationery Office)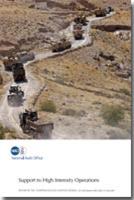 Add to Basket
The provision of support for troops in Iraq and Afghanistan is made more difficult because they operate in remote locations and harsh conditions. Despite the challenging operational environments, the Ministry of Defence (the Department) has successfully delivered around 300,000 personnel and 90,000 tonnes of freight to Iraq and Afghanistan over the last two years. However, it has not consistently met its targets for delivering supplies in a timely fashion.
The Department is taking measures to improve the effectiveness of its supply chain: the amount of time a unit waits for items to be delivered has reduced by half in Afghanistan and by a third in Iraq. £4.2 billion has been approved to upgrade or buy new equipment to meet urgent requirements in the two theatres.
The National Audit Office found that the availability of this equipment has generally met or exceeded targets though there have been spares shortages with some fleets, particularly when the vehicle is used for a different purpose than intended.
The availability and serviceability of helicopters has exceeded the Department's targets, although prioritisation of spare parts for operations has led to reduced availability in the UK. There are also shortages of equipment for Service personnel in the UK to train with, prior to deployment overseas.
Accommodation, medical and welfare services to Service personnel on operations are generally satisfactory although provision at the smaller patrol bases is more basic. The helicopter borne Medical Emergency Response Teams provide quick, life-saving medical support to casualties and evacuate them speedily to hospital.
Find similar publications here: