Providing Anti-Air Warfare Capability: the Type 45 Destroyer
HC 295, Report by the Comptroller and Auditor General, Session 2008-2009
Author:

National Audit Office (NAO)

Publisher:

TSO (The Stationery Office)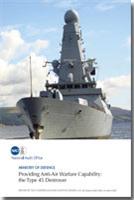 Add to Basket
The project to replace the UK's ageing Anti-Air Warfare capability, which is currently provided by the Type 42 destroyer, has suffered significant delays of over two years. Costs have escalated to some £6.5 billion, up by nearly 30% from initial estimates of £5 billion.
The problems arose because of over-optimism about what could be achieved, inappropriate commercial arrangements and, in the early stages, poor project management. The Ministry of Defence (MoD) has taken action to resolve these problems and in 2007 reviewed and renegotiated the ship contract with BAE Systems (now merged with VT to become BVT Surface Fleet (BVT)). Since then, there have been no further cost increases or delays to the project.
The MoD has extended the service life of the older Type 42s because of the delay in bringing the Type 45 destroyers into use. The Type 45 destroyers will provide much more capability than the Type 42s.
The Type 45 destroyers will:
be able to engage multiple hostile aircraft or missiles simultaneously;

have better accommodation for personnel and more fuel efficient engines;

be able to operate the Lynx, Merlin and Chinook helicopters; and

be equipped with the new Principal Anti-Air Missile System (PAAMS).
More recently the project has progressed well, with key milestones - such as completion of sea trials - being met.
Find similar publications here: