Maintaining the Occupied Royal Palaces
HC 1043, Report by the Comptroller and Auditor General, Session 2007-2008
Author:

National Audit Office (NAO)

Publisher:

TSO (The Stationery Office)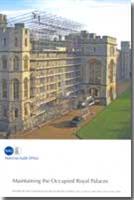 Add to Basket
The Occupied Royal Palaces Estate is held in trust for the nation and is used to support the official duties of the Sovereign. The Department for Culture, Media and Sport (DCMS) is ultimately responsible for the upkeep of the Estate but in 1991 delegated to the Royal Household the responsibility for running and maintaining the Estate. The Household does so through the Property Services Department and receives grant-in-aid, £15 million in 2007-08, broadly the same level of funding as in 2000-01, which is a reduction of 19 per cent in real terms.
This report, 'Maintaining the Occupied Royal Palaces (HC 1043)', examines how the Property Section plans and delivers its maintenance work and the impact the Property Section's running costs and income generated from the Estate had on the funding available to spend on maintenance. The DCMS does not currently have a clear basis for assessing the extent to which its aim of maintaining the Palaces to a standard consistent with their royal, architectural and historic status is being achieved.
The Property Section has identified a backlog of maintenance work, but there is not yet an agreement between the parties about how the backlog should be measured or how to manage it. The Property Section has recently strengthened its approach to planning maintenance work and put in place the key elements of a sound maintenance strategy. In 2007-08 the Property Section generated almost £3 million from visitors to Windsor Castle and from renting out accommodation on the estate. The Royal Household's approach to generating income could be strengthened by developing a formal Estate strategy.