Helping People Through Mental Health Crisis
HC 5, Report by the Comptroller and Auditor General, Session 2007-2008
Author:

National Audit Office (NAO)

Publisher:

TSO (The Stationery Office)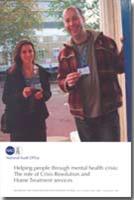 Add to Basket
This NAO report, 'Helping People Through Mental Health Crisis (HC 5)', examines the role of Crisis Resolution and Home Treatment services (CRHT) in helping people through mental health crisis. At any one time, one in six British adults are experiencing at least one diagnosable mental health problem. One quarter of routine GP consultations are for people with a mental health problem, with anxiety and depression the most common.
Mental illness costs the economy in the region of £47 billion a year, with over £15 billion in lost employment and £10 billion in benefits payment. Crisis Resolution Home Treatment teams comprise mental health nurses along with support from consultant psychiatrists, social workers, occupational therapists and psychologists, helping people through short-term mental health crises by providing intensive treatment and support outside hospital, ideally at home.
Divided into four parts, the report covers the following areas:
the Departmental introduction of Crisis Resolution Home Treatment (CRHT);

countrywide implementation of CRHT teams;

the impact such teams are making; and

the cost benefits of such services.
The NAO set out a number of conclusions and recommendations, including that: the Department should take this opportunity to develop metrics allowing a rounded assessment of local acute services including CRHTs; there should be regular service-user satisfaction exercises in key areas, meaningful national data of all CRHT services should be compiled; NHS Trusts should be encouraged to improve their use of the Mental Health Minimum Data; NHS Commissioners should work with mental health provider trusts to assess current CRHT capacity and should also work with local mental health providers, acute trusts; and GP practices and local implementation teams to jointly develop and agree comprehensive protocols for mental health referrals.
Find similar publications here: