Smarter Food Procurement in the Public Sector
HC 963-I, Session 2005-2006: Report by the Comptroller and Auditor General
Author:

National Audit Office (NAO)

Publisher:

TSO (The Stationery Office)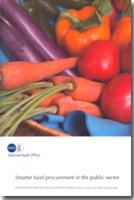 Add to Basket
The public sector in England spends around £2 billion per year on food and catering services, including in schools, hospitals and armed forces bases. This NAO report, 'Smarter Food Procurement in the Public Sector (HC 963-I)', examines how public sector organisations can improve their food procurement practices in order to reduce costs whilst maintaining the quality of meals provided.
The report finds that the public sector could achieve efficiency gains of £224 million by 2010-11, with significant scope for improvement in relation to:
developing market knowledge and buying practices;

employing joint procurement to increase purchasing power;

establishing greater transparency in contract caterers' charges;

promoting the professional development of catering staff in the public sector;

reducing costs and environmental impacts through efficient operational practices;

and increasing the take up of meals and income generated by them.
Two accompanying documents are available separately below: Case Studies (HCP 963-II, ISBN 0102937435) and A Good Practice Guide (HCP 963-III, ISBN 0102937443).