Improving Patient Care by Reducing the Risk of Hospital Acquired Infection: A Progress Report
HC 876, Session 2003-2004
Author:

National Audit Office (NAO)

Publisher:

TSO (The Stationery Office)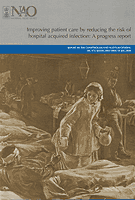 Add to Basket
Despite important progress by the Department of Health in raising the profile in NHS trusts of the control of hospital acquired infection, the NHS still does not have a proper grasp of the extent and cost of hospital acquired infection.
Robust comparable data (other than on MRSA bloodstream infections for which mandatory surveillance was introduced in 2001) are not currently available for the NHS in England. The mandatory MRSA bloodstream infection surveillance shows that the number of MRSA bloodstream infections has continued to increase.
Considerable improvements could still be made to effective infection control practice in a whole range of areas.
Find similar publications here: