Committees
Report on the Committee's Inquiry into Sustainable Transport
Northern Ireland Assembly Report NIA 55/10/11R, Fifth Report of Session 2010-11 - Report, Together with the Minutes of Proceedings and other Evidence Relating to the Report
Author:

Northern Ireland Assembly: Regional Developement Committee

Publisher:

TSO (The Stationery Office)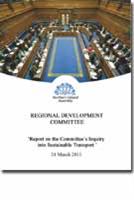 Delivering on sustainable transport in Northern Ireland is challenging. Northern Ireland has committed itself to delivering reductions in greenhouse gas (GHG) emissions and is expected to deliver its share of the Climate Change Act 2008 targets and carbon budgets at UK level. This means a reduction of carbon dioxide emissions through domestic and international action by at least 80% by 2050 and at least 34% in the period 2018-2022, against a 1990 baseline.
Public Service Agreement 22, in the current Programme for Government (PfG), commits the Executive to reduce GHG emissions by 25% below 1990 levels by 2025. It is the Committee's view that the time is ripe to move towards more sustainable transport in Northern Ireland.
The revised Regional Development Strategy and the Regional Transportation Strategy have both been issued for consultation, and together with the recently completed review of public transport and Transport Act, and the ongoing development of electric vehicle infrastructure and rapid transit for Belfast all represent opportunities to stimulate the debate on sustainable transport and to take the actions needed to achieve a modal shift in transport in Northern Ireland.
In this report the Committee agreed 20 conclusions and recommendations in three main areas:
policies to support sustainable transport;

changing attitudes to sustainable transport; and

using more sustainable transport technologies.

Related titles:
Find similar publications here: