ITIL
Display:
Service Operation Book
2nd impression
Author:

Office of Government Commerce (OGC)

Publisher:

LAG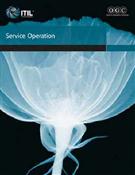 ITIL 2011 Editions have published! To find out more click here
Service Operation introduces and explains delivery and control activities to achieve operational excellence on a day-to-day basis. Sharing a consistent structure with the other four core ITIL Version 3 (V3) publications, the various practice elements are easily navigated and extensively cross-referenced.
Concepts and guidance in Service Operation include:
Application Management

Change Management

Operations Management

Control processes and function

Scaleable practices

Measurement and control.
ITIL V3's service lifecycle-based practice incorporates the best of V1 and V2 and tests current best practice for IT Service Management (ITSM). Readers will find many of the familiar processes from the former Service Support and Service Delivery books, which have been updated where necessary. To receive future information about ITIL developments please join the ITIL Refresh Register (opens in a new window).
Related resources:
> ITIL Update FAQs - October 2011 (PDF - 677Kb)
> 'Service Operation' Contents and Introduction - PDF (107Kb)
> 'Service Operation' 1st Impression Amendments - PDF (84Kb)
> 'Service Operation' Publication Review
> Core Study Material for ITIL V3 Qualifications Diagram (PDF - 88Kb)
> ITIL Version 3 Lifecycle Process Model
> 'An Introductory Overview of ITIL V3' Pocketbook (PDF - 647Kb)
> 'Everything you wanted to know about ITIL in less than one thousand words' White Paper by Jane Clark, Management Consultant from Connect Sphere Limited (PDF - 556Kb)

Already own a copy?
We are interested in your opinion. Please
review this publication
. (Opens in a new window.)
Find similar publications here: